Hi, I'm haley.
I'm at my best when surrounded by positive people. I love to work on teams and can brainstorm for five minutes or five hours and turn dirt into diamonds. I want to create art that changes the world for the better. The kinda stuff that makes people stop in their tracks and tilt their head to the side. Let's raise the collective consciousness together.
Ask me about my two pet pigs:
haleyjjames650@gmail.com.
My Resume
Putting Food on the Table
I've been having a lot of fun working for Small Town Sweets, the local family owned candy store in Half Moon Bay.
Creating original copy for product descriptions and running the Instagram account
@smalltown.sweets
has been a pretty sweet gig. Below is some work I've had the pleasure to do.

"This modest Swiss chocolate bar tastes as if it was hand delivered fresh from the MilkBoy himself. The soft milky chocolate melts smoothly in your mouth, while the bits of sea salt and caramel offer a delightful crunch. Full of contradictions, this bar is sweet but salty, and creamy with a crispy surprise. The breakable squares make it easy to share, but after your first bite you'll want it all for yourself"


"For immediate relief, take a Chill Pill when encountered with an obnoxious, angry, rude, or simply unpleasant person. Take as needed to alleviate stress and reduce frustration, in some cases entire bottles may be finished in one day. Chill Pills are clinically proven to lower rage levels and increase happiness.
Recommended for ages 9 to 99. Side effects may include increased joy, higher levels of patience, and bursts of energy."
Some things I'm passionate about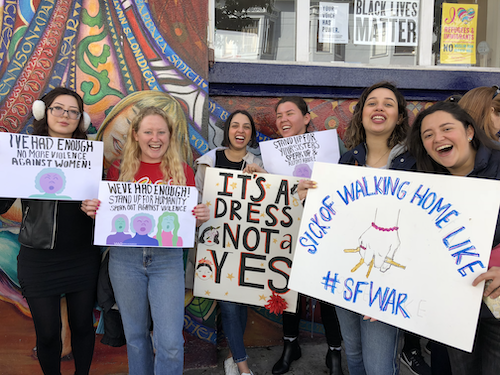 Women Against Rape march in San Francisco.
Each year I design my own posters and make multiple prints to give out to my fellow marchers.
From my Perspective

In general I think we all spend too much time on our phones, but here's a few moments I found photoworthy.