Young Glory x GoPro
The Brief Given by Young Glory:
Use social media as a weapon against itself to inspire teens to spend less time on their devices.
Partner with an organization to spread your message.
Our Approach - Teens Take Action
We decided to partner with GoPro because they're an organization that is respected for the right reasons, and could inspire teens to get outside. We wanted to lean into the way this brief is coming at today's teenagers from the older generation's perspective. Rather than beating around the bush, we chose to confront the issue head on, and then follow up with an immediate solution.
If you're a teenager who is tired of hearing how lazy you are, then let us help you prove the old folks wrong. Oh and possibly win a GoPro.
Our main media where our message will be seen are Instagram and Youtube.
Copy driven ads to kick 'er off
Post copy: If you're tired of hearing comments like this from the older generation, click to learn more about how to prove them wrong.
Mobile Landing Page
What our audience will see when they click to "Learn More" from their cell phones after seeing our Instagram ads.

How it works:
After reviewing the idea submissions, GoPro would chose 75 teenagers across the country to send GoPros to. The chosen ideas would be based entirely on their creativity, with the only rule being that they are shot outdoors. The winners would be directed to send in their footage within two weeks of receiving their GoPro. The videos would then be posted on GoPro's website and continue to circulate on social media to further inspire other teenagers to get outside.
Instagram Video Ads

After our initial kick off of the campaign, we will continue by posting videos of teenagers using GoPro to further inspire our audience to submit an idea.



YouTube Bumper

Our bumper ads would appear before videos that are frequently visited by our audience.
Desktop Landing Page
What our audience would see if they clicked the GoPro logo within the YouTube video from their tablets or laptops.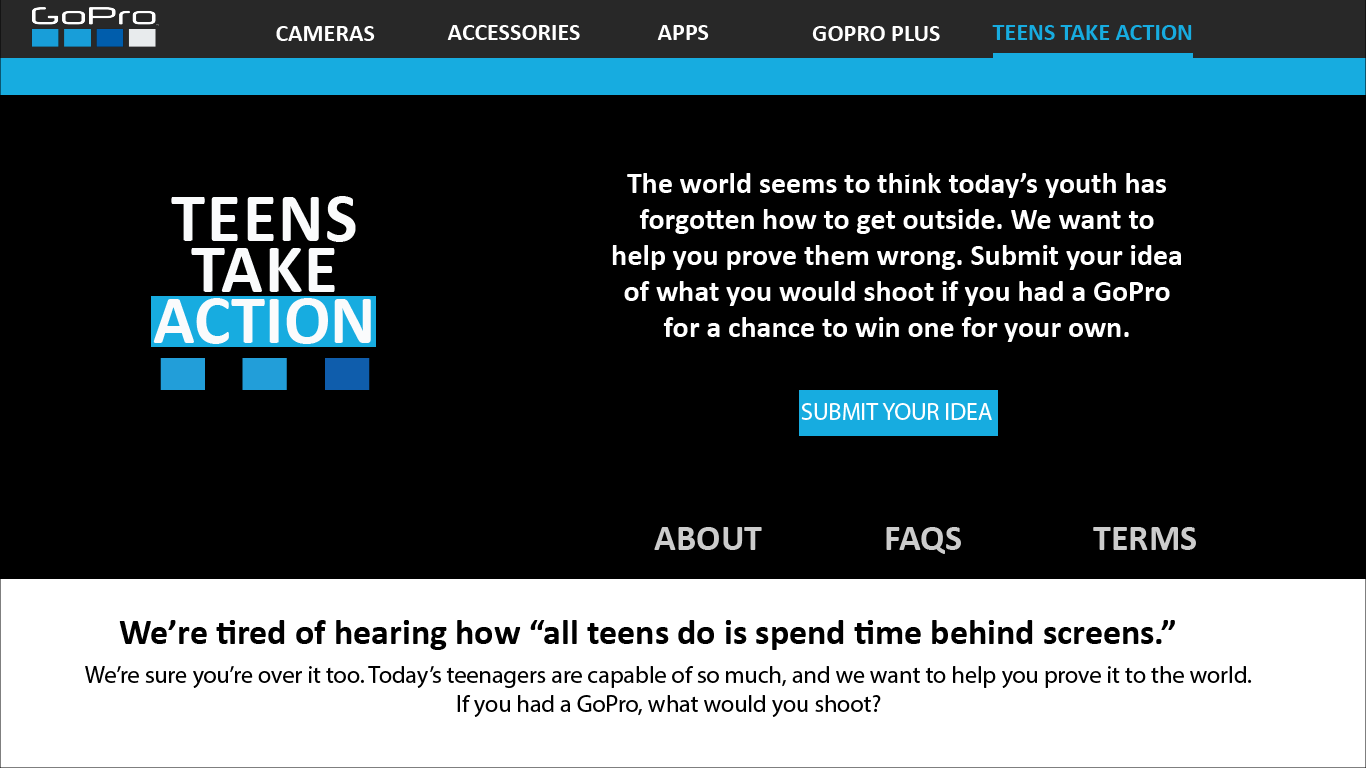 In Conclusion

We hope that our campaign will inspire teenagers to get outside with their friends. We know that it is impossible to completely remove social media from their lives, but by showing them something they can identify with perhaps we can inspire them to get outdoors and get creative.


By: Haley James and Saniya Utegulova